Micro LED boom is heating up, how to interpret the "triangle relationship" with LCD and OLED
With Apple's use of Mini LED screens on iPods and Samsung's launch of household Micro LED TVs in September this year, the domestic Micro LED boom continues to heat up. According to incomplete statistics of LED inside, from the beginning of 2019 to May 2020, the total number of projects in mainland China with Mini / Micro LED as the investment direction has reached 22.08 billion yuan.
Mini LED can be used as a backlight to help LCD (liquid crystal) to improve performance and OLED competition. In the future, it can be used as a direct display to pave the way for Micro LED, challenging LCD and OLED. At the same time, LCD continues to iterate on 8K displays and high refresh rates to extend the life of the industry, and OLED is still a hot spot this year. In the future, there will be "threats" between Mini LEDs, LCDs and OLEDs, and they will also be promoted. The industry's "triangular relationship" will become more prominent.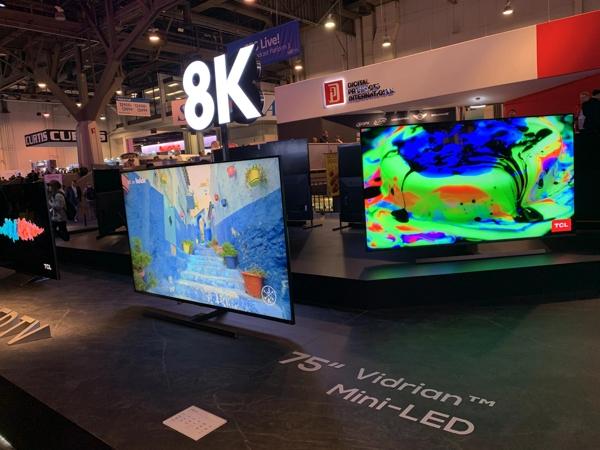 The latest discoveries of domestic A-share LED listed companies, leading companies in China's LED industry chain from chips, packaging to displays, are almost advancing towards Mini / Micro LED. They continue to increase investment in R & D and manufacturing through targeted additional issuance, joint venture cooperation, investment expansion and other forms. Mini / Micro LED has become the engine of a new round of development in the Chinese LED industry.
According to Yole's data, Mini / Micro LED is expected to be imported into 3.24 million products in 2019, including monitors, TVs, and smartphones.
LED chip companies such as San'an Optoelectronics (600703.SH), Huacan Optoelectronics (300323.SZ), and Jucan Optoelectronics (300708.SZ), all planned to invest and expand production through targeted issuance this year, and grasp LEDs in the next generation of new display Opportunity.
For example, Sanan Optoelectronics plans to raise no more than 7 billion yuan for semiconductor R & D and industrialization projects (phase I). The total investment of the project is 13.8 billion yuan. It will annually produce 7.692 million gallium nitride LED chips, of which Mini LED backlight And Micro LED display chips 1.616 million pieces; annual output of 1.232 million gallium arsenide LED chips, including 176,000 Mini / Micro LED chips. Sanan Optoelectronics is one of the important Mini / Micro LED chip suppliers of Samsung Electronics. This year, it also established a Micro LED joint laboratory with TCL Technology (000100.SZ).
Huacan Optoelectronics will raise no more than 1.5 billion yuan, of which 1.2 billion yuan will be invested in Mini / Micro LED R & D and manufacturing projects. Through three years of construction, it will achieve an annual output of 950,000 4-inch Mini / Micro LED epitaxial wafers.
Jucan Optoelectronics also plans to raise no more than 1 billion yuan for high-efficiency LED chip expansion and upgrading projects, and believes that applications such as new display with Mini / Micro LED as the core will become the main driver of the new round of LED chip growth. force.
Not only LED chip companies, LED packaging companies such as Guoxing Optoelectronics (002449.SZ), Zhaochi (002429.SZ), Ruifeng Optoelectronics (300241.SZ), as well as Liad (300296.SZ) and Alto Electronics (002587) .SZ), Lehman Optoelectronics (300162.SZ) and other LED display companies have also increased capital and expanded production in the Mini / Micro LED field.
LED inside predicts that the global Mini LED market will grow rapidly from US $ 78 million in 2018 to US $ 1.175 billion in 2024. The GGII predicts that by 2022, the global market for Micro LED is expected to reach 8.07 billion yuan. Yole predicts that shipments of the Micro LED display market will reach 330 million by 2025.
The industry believes that LED displays with a pitch of less than 0.1 mm can be called Micro LEDs. Zhang Xiaofei, chairman of Gaogong Industry Research, told reporters that more investment is now placed on Mini LED backlights and Mini LED displays. Everyone in Micro LED is also investing step by step, but sales are very small, and it is necessary to overcome the huge amount of transfer technology before large-scale commercial use. The true industrialization may be until 2022.
The International Semiconductor Industry Association (SEMI) senior director Zhang Wenda believes that the next-generation display panel Micro LED has the characteristics of flexibility and transparency. As the industrialization matures, it is expected to enter the high-end mobile phone market in 2024 and the mobile phone popularization market in 2026. Now an LCD mobile phone screen is about US $ 20, and a Micro LED mobile phone screen is about US $ 300, and the cost needs to be greatly reduced.
Micro LED is also promising in automotive displays and AR / VR displays, but it will be expensive for TVs and tablets.
The layout of Mini / Micro LED is the layout of the future, so to what extent can it stir the industry pattern now?
In the development process of Micro LED's gradual maturity and the future replacement of LCD, the transition technology Mini LED backlight will first help LCD to fight against OLED. After all, the LCD panel currently in the mainstream position has fallen into the predicament of overcapacity and falling prices. The global display industry needs new technologies to lead the industry to increase added value and profitability.
According to Geng Yi, executive deputy secretary-general of the China OLED Industry Alliance, there are three highlights of the OLED industry this year: First, the folding screen mobile phone with a flexible OLED panel is popular, Samsung has three products, and the sales of folding screen mobile phones will be this year. Significant growth; second, South Korean companies are accelerating the fade out of the LCD field, Samsung will invest 10 billion US dollars in QDOLED, want to compete with LGD in the large-size OLED field; third, silicon-based OLED investment boom, BOE (000725.SZ), Visionox (002387.SZ), Xiaomi, etc. have invested in the layout.
Recently, OLED has made new progress in upstream panels and downstream applications. In the upstream field, on May 20, Visionox Hefei's 6th generation flexible AMOLED production line was capped and the equipment was commissioned. It is expected to be put into trial production by the end of the year. After the project is completed, it can produce 28 million pieces of various screens per year. In the downstream field, Huawei and Xiaomi also launched OLED TVs this year, and the brand camp of OLED TVs continues to expand.
Mainland China has become the world's largest LCD display panel production base, and South Korean companies Samsung and LG have accelerated their transition to the OLED field to seize new commanding heights. Display companies in mainland China are not far behind, and continue to expand production on small-size flexible OLEDs. BOE Chongqing, Visionox Hefei, TCL Huaxing Wuhan, Shentianma Xiamen and many other 6-generation flexible OLED panel lines are under construction. In the field of large-size OLEDs, BOE and TCL Huaxing are both developing printed OLEDs, hoping to open up new paths outside Korean companies.
As the leader of the display industry in mainland China, BOE, TCL Huaxing and Shentianma (000050.SZ) are "eating in the bowl, looking at the plate, and planting in the field." The LCD panel is "in the bowl" and is the largest source of current revenue and profit; the OLED panel is "in the plate", constantly increasing the investment in small-size flexible OLED panel production lines, and developing large-size printed OLED panels; Micro LED It is "in the field".
While laying out the future, manufacturers are also considering how to extend the life of the LCD panel industry. Liu Jingang, deputy general manager of BOE Display and Sensors Business Group TV SBU, said in March this year that 8K display, Mini LED backlight, dual-core (dual screen), 120Hz, full screen, and oversize (65 inches and above) will be large sizes The development direction of LCD panels this year. In addition to TVs, commercial displays will be developed, such as the 110-inch cloud conference system.
With the advent of the 5G communication era, the instant transmission of massive data will become a reality in the future. The demand for large-screen, portable, and mobile display screens will increase greatly, and future displays will be ubiquitous. Therefore, following the attention of foldable screen mobile phones, foldable screen notebook computers have also been unveiled. In the future, TVs can also be curled and portable, so self-luminous, flexible display OLEDs will gradually replace LCDs in special application scenarios. Micro LED is also self-luminous, can realize flexible display, and can be spliced into any shape, and has lower power consumption and longer life than OLED, but the degree of industrialization is lower than OLED. In contrast, LCD still has the advantages of sufficient supply, cheap price and wide application due to its huge industrial chain. The "triangular relationship" between Mini LED and LCD and OLED is getting closer.