Displays Define the System in Industrial too
Electronic systems are now being defined by the display. When designing wearable devices, for example, designers start with the desired form-factor (often a wrist watch style device) and create the system around that. If they can't source a display of the appropriate size, shape and performance, they can't deliver the system. Thus the display, rather than the processor, has become the first consideration in many new designs.
Major consumer OEMs can have a display manufactured to their precise specifications. This puts lower volume industrial and consumer electronics manufacturers at a disadvantage.
If they can't order tens or hundreds of thousands of units at a time, they have to build their products around standard products, and risk being left in the lurch if they are withdrawn. Who will help companies that are the life-blood of our industry, where the real innovation often starts, compete in this new market by offering the custom or customised display solutions that they need to succeed? Let us look first at what solutions they will need.
Prototyping
Many of these new customers create their product in software, and seek to create a proof of concept prototype that can be shown to partners, investors, management and other stakeholders to create buy-in. They need embedded display platforms that are ready to go, integrating an appropriate ARM, Intel, AMD or Snapdragon processor with a display, a touch interface and communications.
Developers load their application to create a working unit that can be used to prove a concept and deliver a powerful working demonstration to generate buy-in.
These platforms are offered with a range of display sizes, from 4.3 to 10.1-inch. Having finalised the design, the same platform can be customised to create the production system with a minimum of further development. The hardware is highly flexible, and can be tailored to suit an individual application in terms of operating system, display size, cabling, screen glass, backlighting, processor speed and interfaces.
Shape and size
For markets like wearables the compromises that this approach entails are unlikely to be acceptable. This is by definition a highly style conscious market, and most customers will be want to specify the exact size rather than use an off-the-shelf standard product.
Most wearables are worn on the wrist at the moment, which implies a small round display. China-based display module supplier Truly Semiconductor can offer bespoke round touch screens with affordable NRE and tooling cost structures for lower volume applications.
Sourcing issues aren't restricted to non-standard shapes. Even regular sizes can become hard to obtain if manufacturers switch production to reflect volume demand patterns.
For example, a number of companies have either discontinued or applied large MOQs 2.8-inch diagonal QVGA TFT panels. This leaves customers facing an unpalatable choice between committing to taking a large stock with the associated cash flow implications or redesigning their product. Using its close relationships with key suppliers, as suppliers we responded by negotiating an agreement with its suppliers under which it can continue to supply the market with minimum order quantities of just 1000 pieces.
Th
e touch interface
Displays are now often the point of control for a system and capacitive touch is the most common technology applied. Customers not only need to be assured of a robust, reliable input capability but often need additional features for specialised markets like point of sale and security.
For example, many applications need signature capture and need to differentiate between fingers and the stylus. The ability to lock input from fingers and recognising stylus only for example can prevent erroneous input during signing operation.
Electromagnetic noise is a constant threat to the performance of capacitive touch screens, which is why touch systems need to have good noise immunity. Manufacturers like Cirque offer all of these features, and add advanced capabilities like secure capacitive scanning, enabling secure input, protected against attempts to bug the device and capture data.
With some applications, the environment presents a challenge. For example, Saeco needed a wide viewing angle 7-inch TFT PCAP touch screen on their coffee machines for all round and clear viewing by the end users. One of the many challenges of display integration within coffee machines was the presence of steam which can cause touch screen dysfunction.
They overcame this by using an IC on the displays to work through water vapour, enabling consumers to craft their coffee experience at home via a Saeco espresso machine in the smoothest way.
OLED
An exciting, emerging technology which is gaining more and more popularity in both consumer and non-consumer applications is OLED's.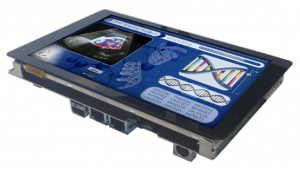 OLEDs have a polymer material sandwiched between the glass, which is light emitting itself as soon electricity is applied. As OLED is another stylish technology the key is to create the exact display which will enhance the application, and setting up the supply chain with minimum order quantities and other commercial terms that the customer can support.
Most commonly they are used to give a contemporary and smart appearance, which is why Triton Showers adopted the technology for Triton Touch. A key part of its appeal is the 1.54-inch 128 x 64 pixel white OLED display. With wide viewing angles and high contrast, this clear self-emissive display is easily readable by shower users. Its accurate digital temperature indication and informative text messages ensure setup of a perfect shower experience every time.
OLED's are still only a small percentage of the display market place and whilst they have a variety of advantages including that they are very thin, have extremely high contrast and colour saturation with unlimited viewing angles, , there are still challenges including price points and life time – even though there are improvements here all the time.
As the display becomes the defining component for electronic systems, it is no longer enough to offer a range of standard display products. Distributors need to start to work with customers at the prototype stage, offering a platform on which they can prove their software.
As the customer moves forward to a production design, they need to be prepared to roll up their sleeves and create the solution that will enable the product to succeed in the end market, and deliver that in volumes and with commercial terms that the customer can support. Only a strong specialist has the vendor relationships to be able to accomplish this.